exploring game worlds and eden as a video game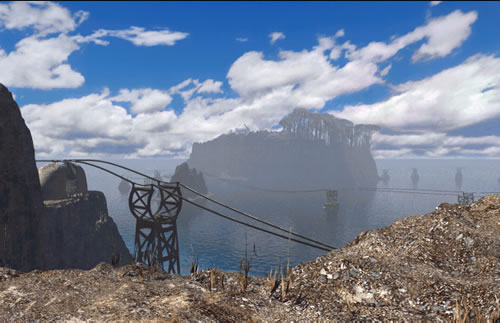 This may be obvious, but I think the difference between how we experience a beautiful computer game, (
Indiana Jones and the Fate of Atlantis
or
Riven
for example) and the way we experience our world is the relationship we have to that world. The artificial world does not have all the responsibilities that the real one does, and perhaps the newness of the format makes me see it with new eyes. Because I see a videogame as crafted, I notice and marvel at the craft.
Or is it the distance that makes it so attractive? It is that way to some degree with paintings, photos or the grass on the otherside of the fence. Is it the absence of me? Perhaps my driving force is just trying to get to a place free of me. But what is it about game worlds that is so attractive to me? In exploring abandoned buildings I get some of the same feeling. The desire to explore. What is it about horizons that so attracts us?
Relevant texts:
my post on kierkegaard and our relation to nature
C.S. Lewis'
Pilgrim's Regress
.
John Howe's blog post on Wanderlust
What about drawing? Does that help me get that feeling in the real world? Maybe
Or Photography? Yes and No.
Did Eden feel like an adventure game to Adam? Did life feel like a game? Was there play before the fall?
In many ways the world was like a game. Adam suddenly existed fully formed in a new world teaming with life. I suppose he had no memory. He did not yet know how this world, this life, worked, and what he was supposed to do. What the objective was. But then he was told. It became multiplayer. He got started, and then a things went south. But the games objectives didn't change. It became more complicated, but the rules and ultimate task are the same for us.
Labels: aesthetics, beauty, game design, kierkegaard, strangeness